Sydney Fish Market  is the largest fish market of its kind in the Southern Hemisphere. Well, usually I shrug off any "largest/best/only in the Southern Hemisphere" claims because, really, we don't have much competition down under. But take this: Sydney Fish Market is the third largest fish market in terms of variety in the world. Now, that's impressive.
Here's what I usually bring when I hit the Fish Market, hopefully it'll spare you some "I wish I had brought this" moments:
BYO wasabi and soy sauce (they don't give these out for free)
BYO paper plates (makes sharing a whole lot easier)
BYO drinks and paper cup (or buy there)
Picnic blanket (in case we have trouble getting a table)
Serviette (eating seafood could get messy!)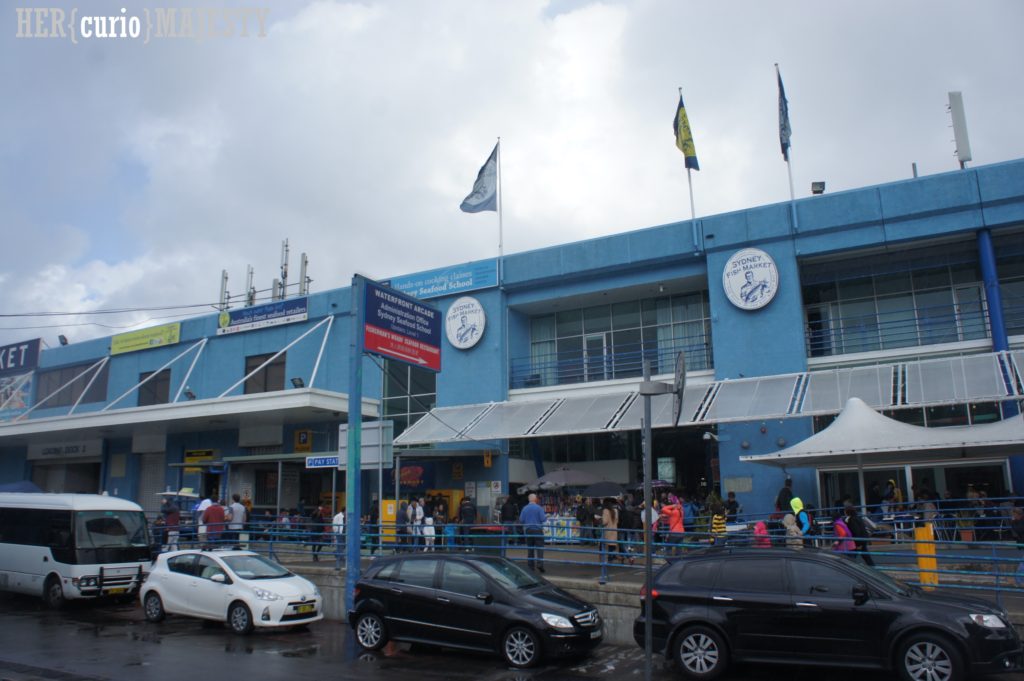 This is the main building of the Sydney Fish Market that houses a cluster of seafood outlets selling fresh seafood and cooked food. It's always jam-packed with people on the weekends – and for good reasons!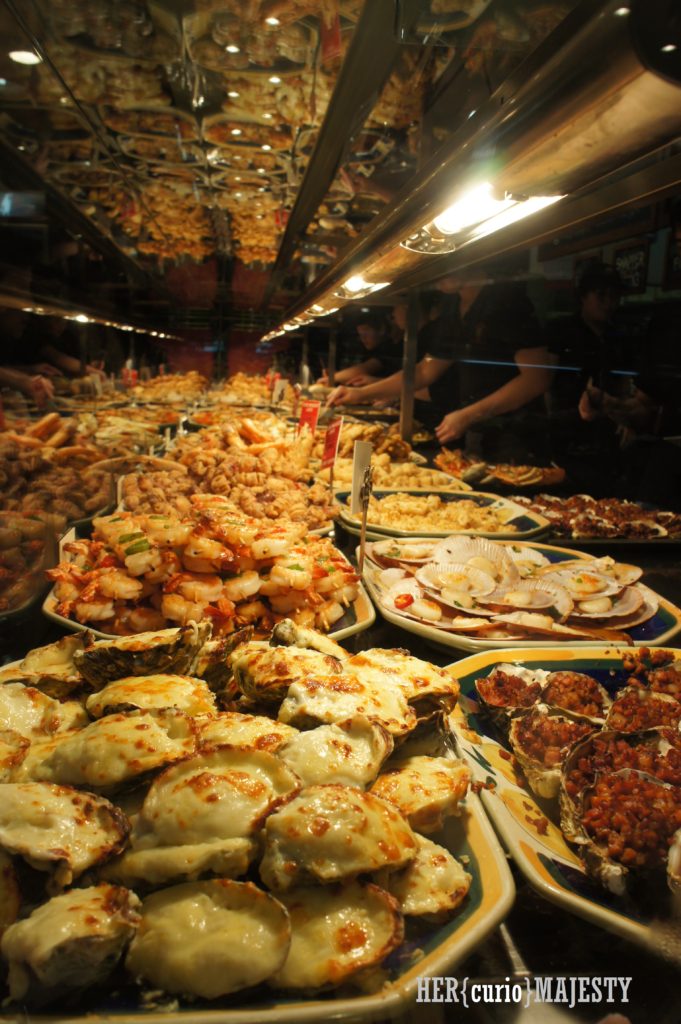 For hungry first-timers, it's hard to walk past these saliva-inducing displays without reaching for your wallet and getting a platter.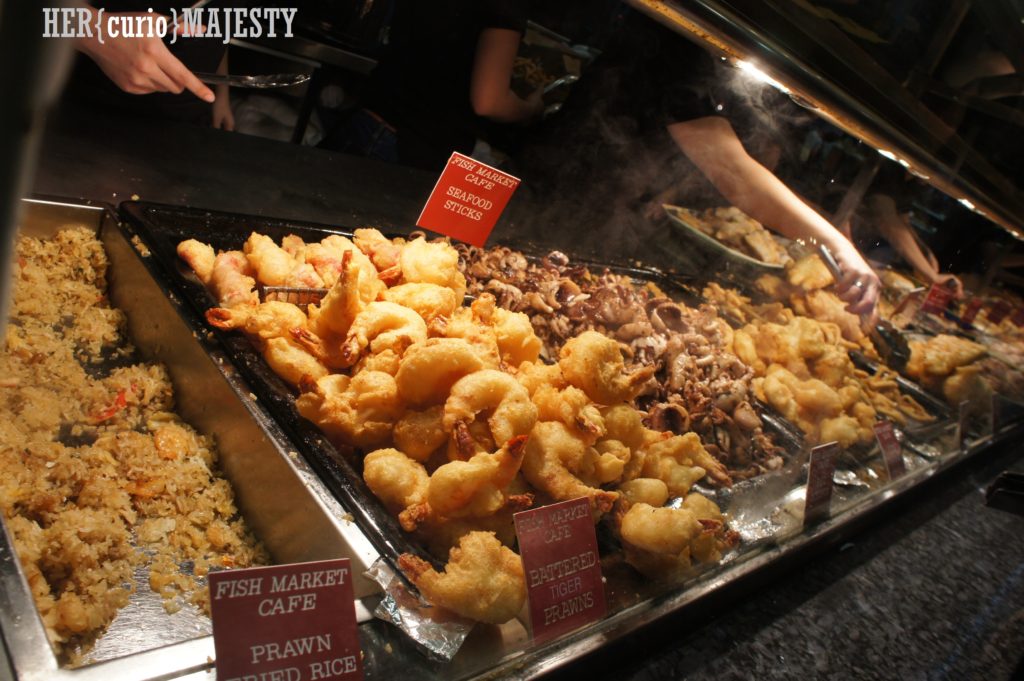 And these.
Most seafood platters come with a load of chips, and it's the chips that fill you up. I have steered away from these deep-fried goodies in recent years, to focus more on the other things available at the market, e.g. oysters, sashimi and fish (more photos below).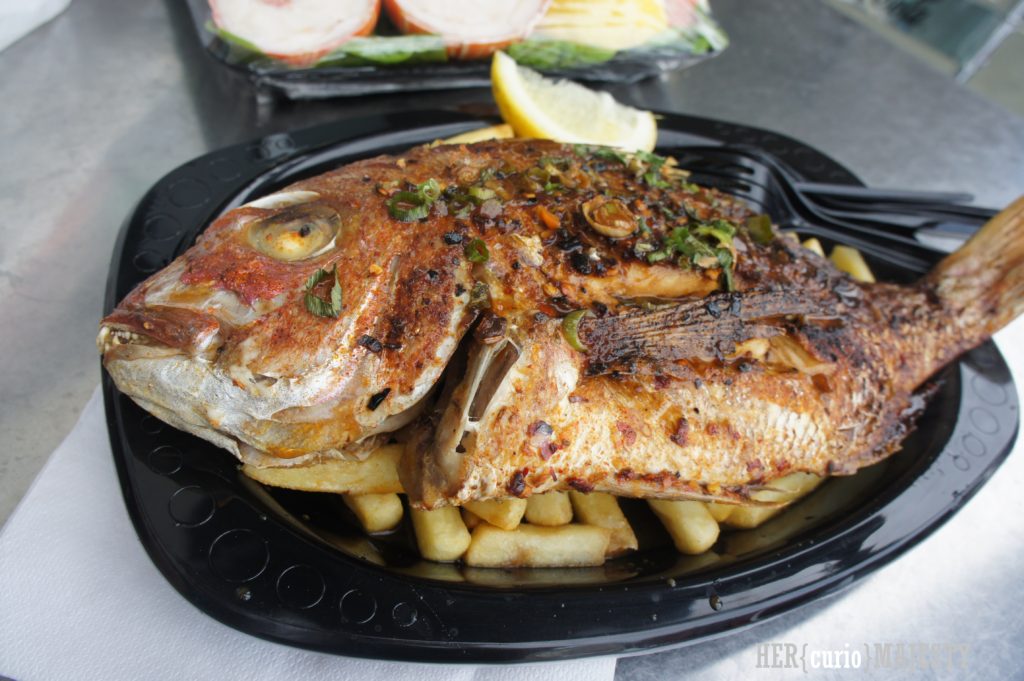 A whole fish like this (also with a bed of chips) costs about $14-$16, which is pretty good value considering the portion and freshness.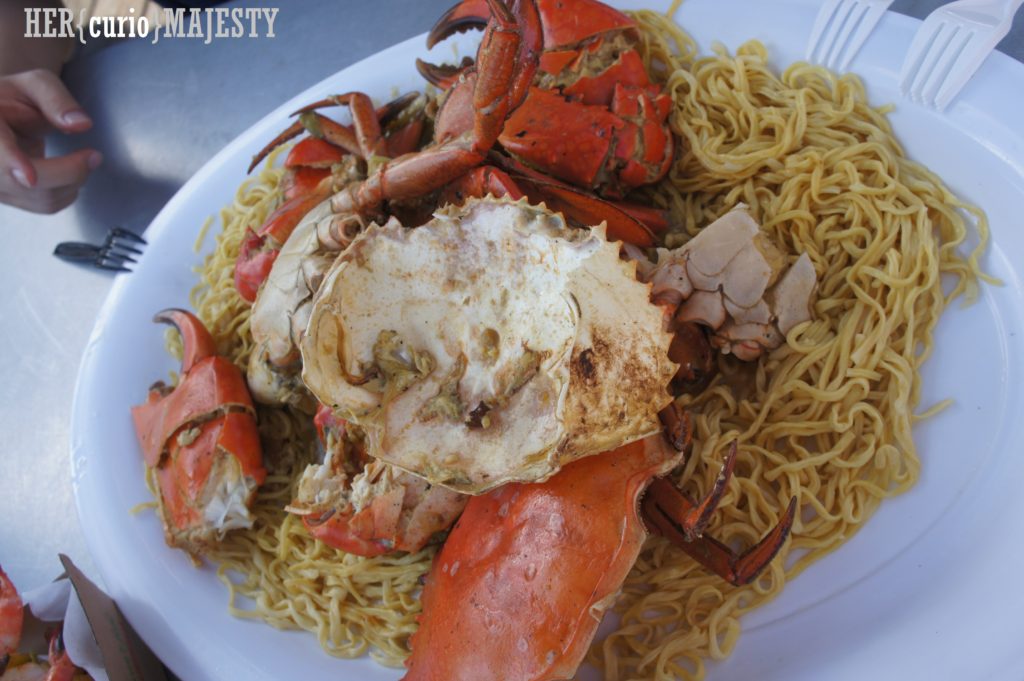 For mud crab lovers, this is the bomb. Ginger and shallot mud crab with noodles, cooked to order! There are several outlets here that can cook your mud crabs in a variety of styles – e.g. Ginger and shallot, Singaporean chilli crab, salt and pepper, steamed, you name it!
The cooking charges are usually $15, plus another $10 or $15 for the noodles. For those of you that haven't tried this – noodles is a must as it soaks up all the sauce and essence of the dish. A mouthful of pleasure (and cholesterol, haha).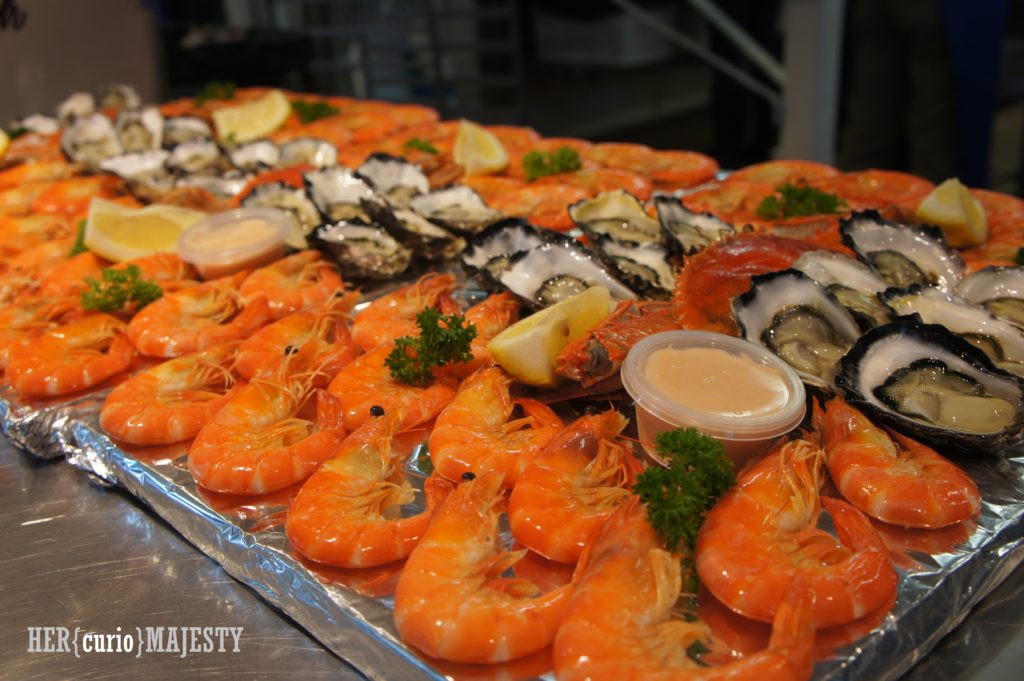 Of course, don't leave without trying some sweet and delicious Australian prawns. Cooked prawns are sold like this in platters or sold by weight.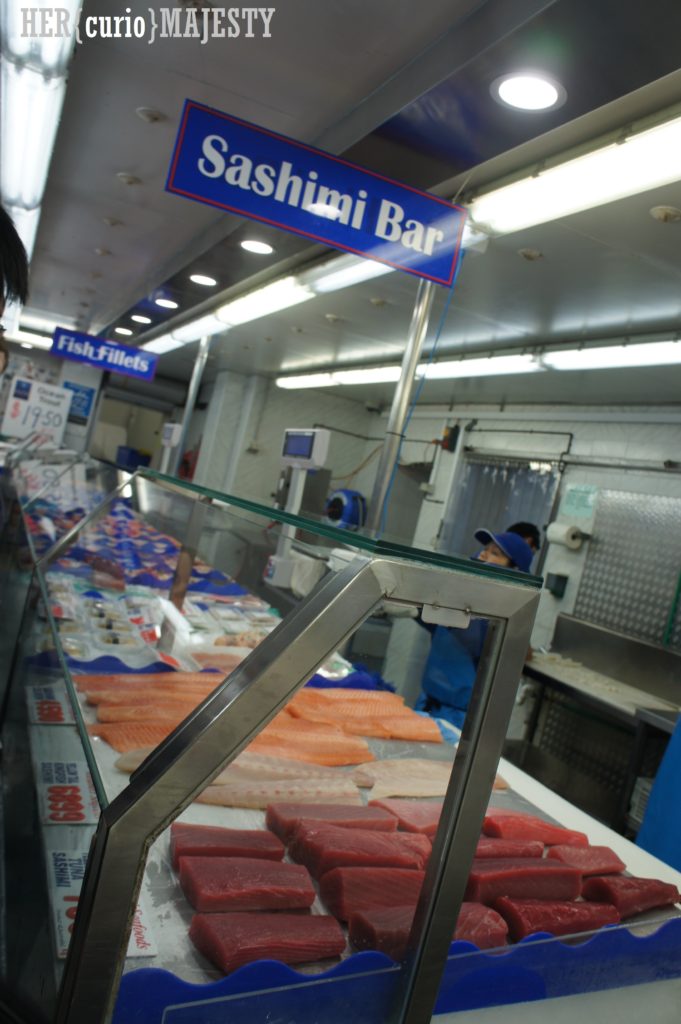 Like all other sorts of seafood, sashimi is sold by weight here. I usually just gesture to them the length that I want to buy, and ask them to slice it up for me.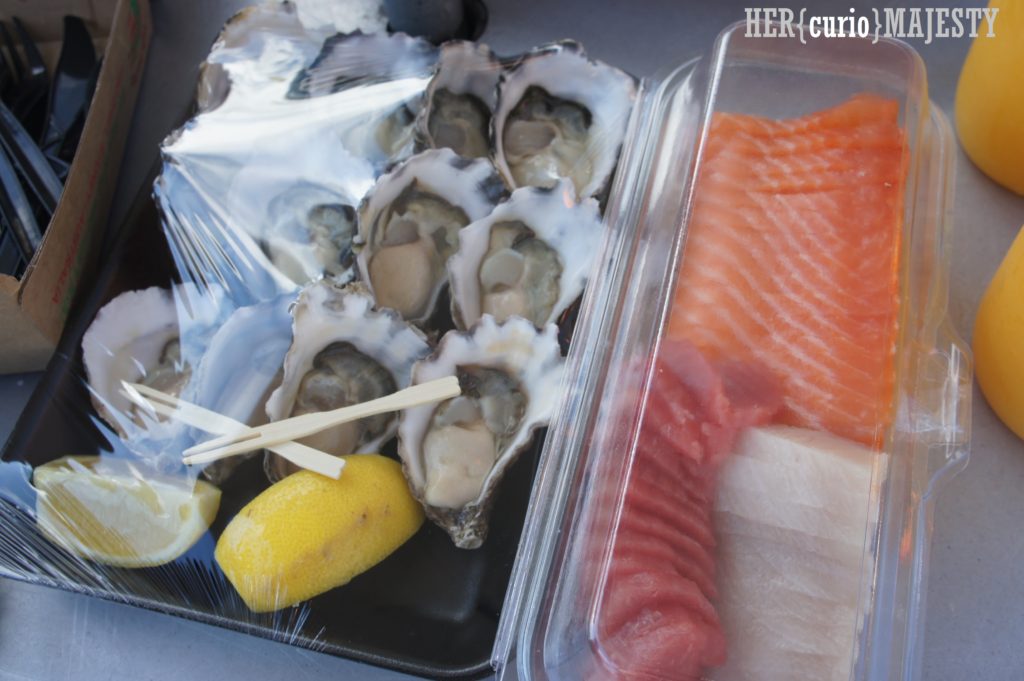 Sashimi usually comes in a clear takeaway box like this. Some shops provide disposable chopsticks for customers. However, you have to pay extra for soy sauce and wasabi.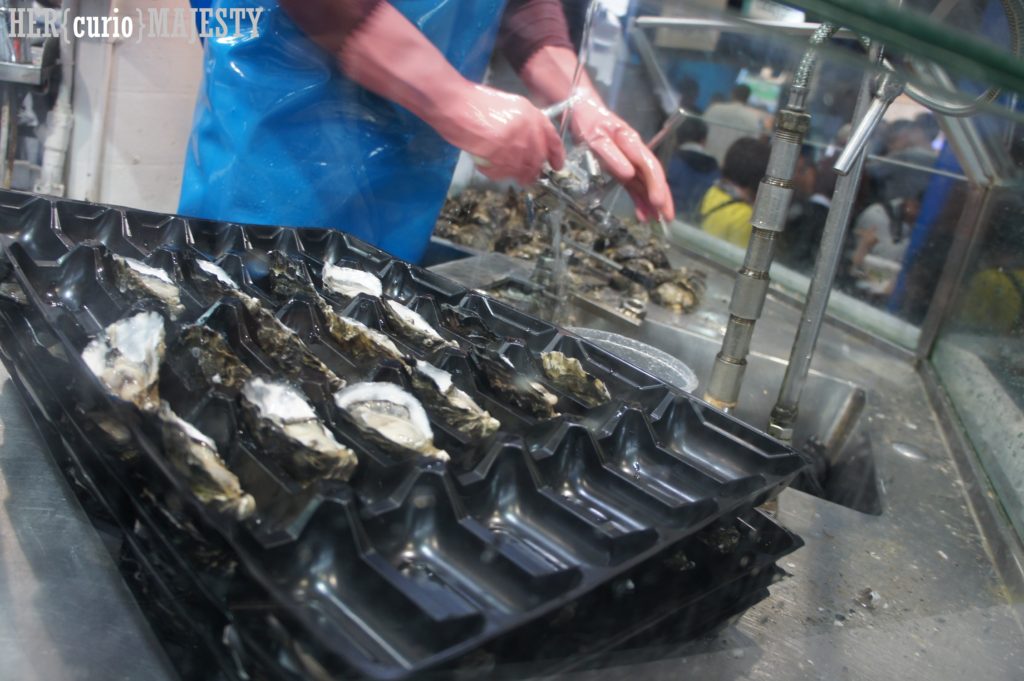 Now, oysters. You simply CANNOT come to the fish market without having some oysters.
Trust me, I used to dislike oysters. But I was lucky to have tried a really nice oyster in Bali at the St Regis Resort that completely changed my view. Then I realised, I only disliked oysters because I hadn't had a good oyster before! I also realised how much I'd missed out over the years, especially since Sydney has one of the best oysters in the World.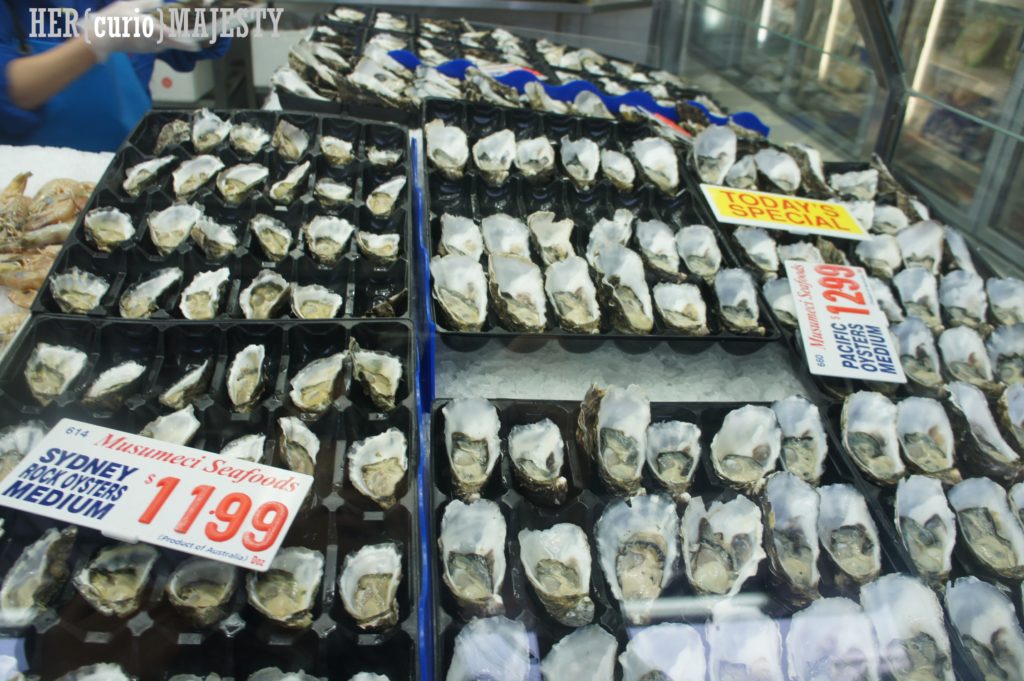 The two main types of oysters sold at the Sydney Fish Market are Sydney Rock Oysters and Pacific Oysters. Do not fall into the trap of thinking Sydney Rock Oysters must be superior because it has the name "Sydney" in it. These are the name of the species of oysters, and they have very distinctive characteristics:
SYDNEY ROCK OYSTERS
Sweeter and creamy taste.
Smaller in size (compared to Pacific Oysters).
Peak season is September to March.
PACIFIC OYSTERS
Taste of ocean/ more salty.
Bigger in size (compared to Sydney Rocks).
Available year round but peak from April to September (best avoided in Jan and Feb when they spawn).
Since they are both popular oysters eaten in Australia, I would recommend getting both types to compare the differences. They are both beautiful.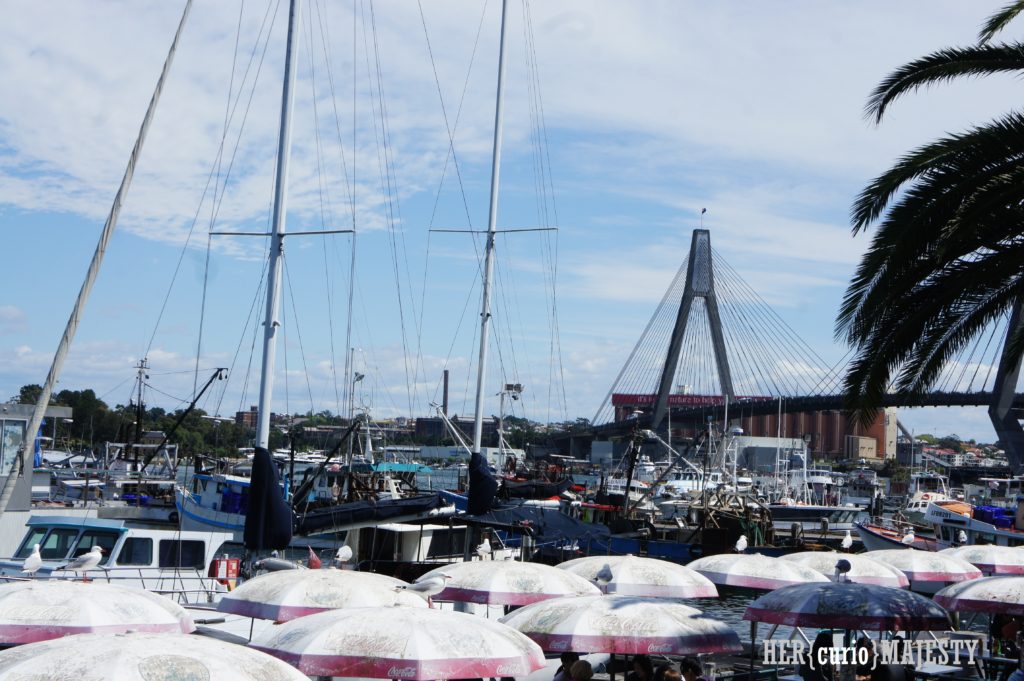 Most seats at the Sydney Fish Market are outdoor in front of the pier, under sun umbrellas.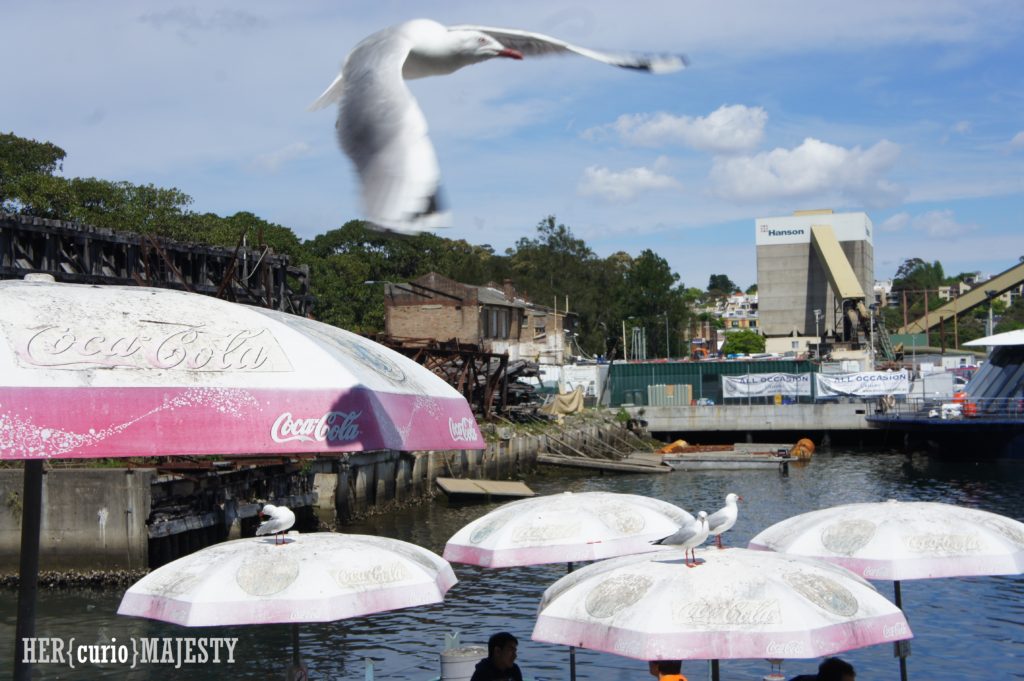 Beware of…seagulls! The seagulls are vicious here and they would, literally, snap your food away from you! Make sure you cover your food when you're not watching it. There was once, I opened my sashimi takeaway box and was just casually chatting with my mum sitting opposite me, and then SWOOSH, "!?!" the seagull stole my salmon sashimi and knocked the box over….Great.
Do not feed the seagulls – feeding makes them more aggressive.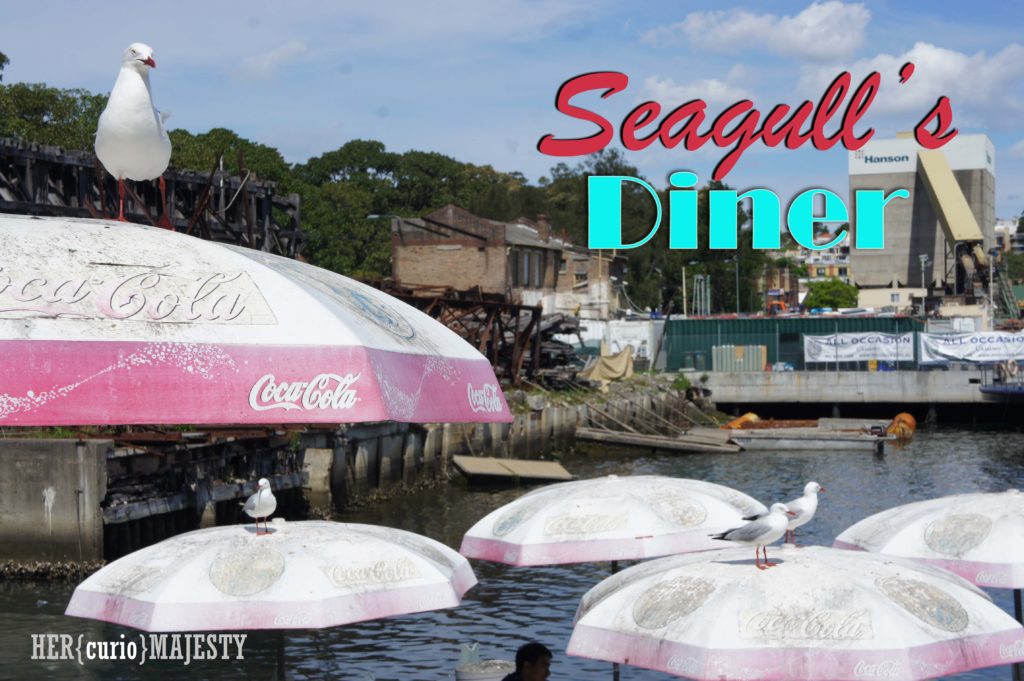 Humans eating below, seagulls hunting above…I call this the Seagulls' Diner.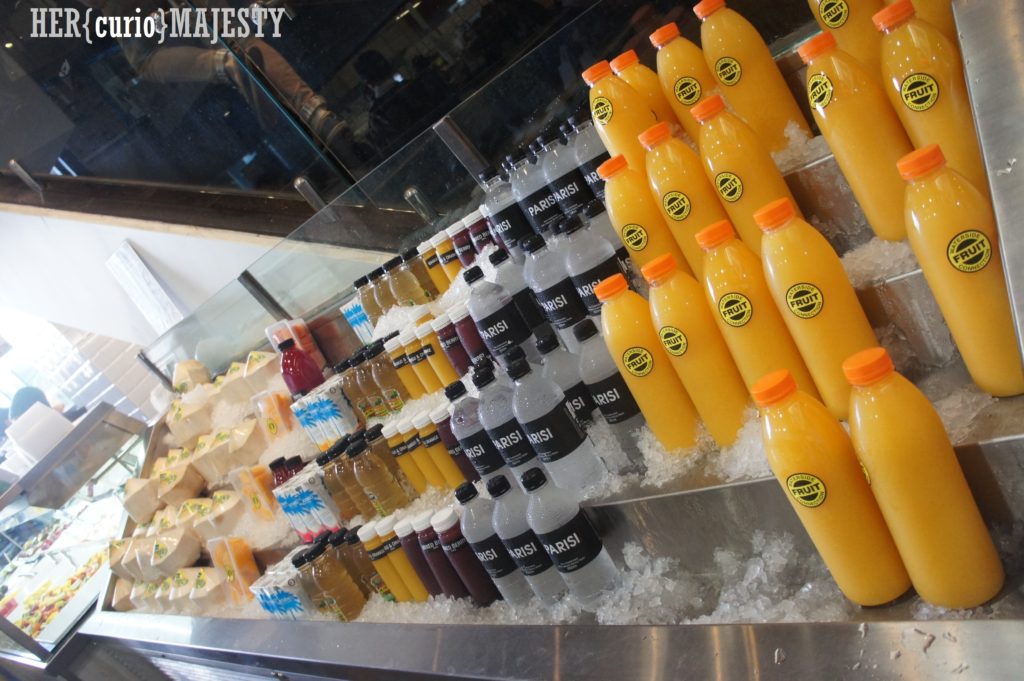 There's a fresh juice/salad shop right at the end of the main hall. Ask them for plastic cups when you buy a big bottle of juice to share. There's also a bottle shop and a cheese/dairy shop in the main hall.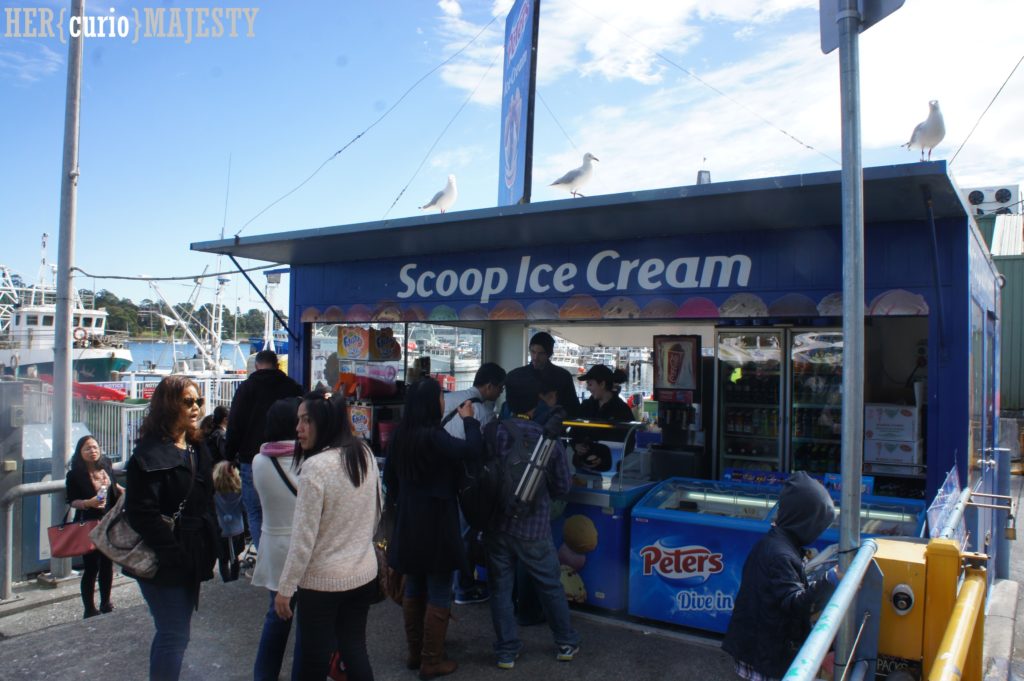 I usually over-eat at the Fish Market so I never crave for desserts immediately after. But if you feel like it, there's ice cream!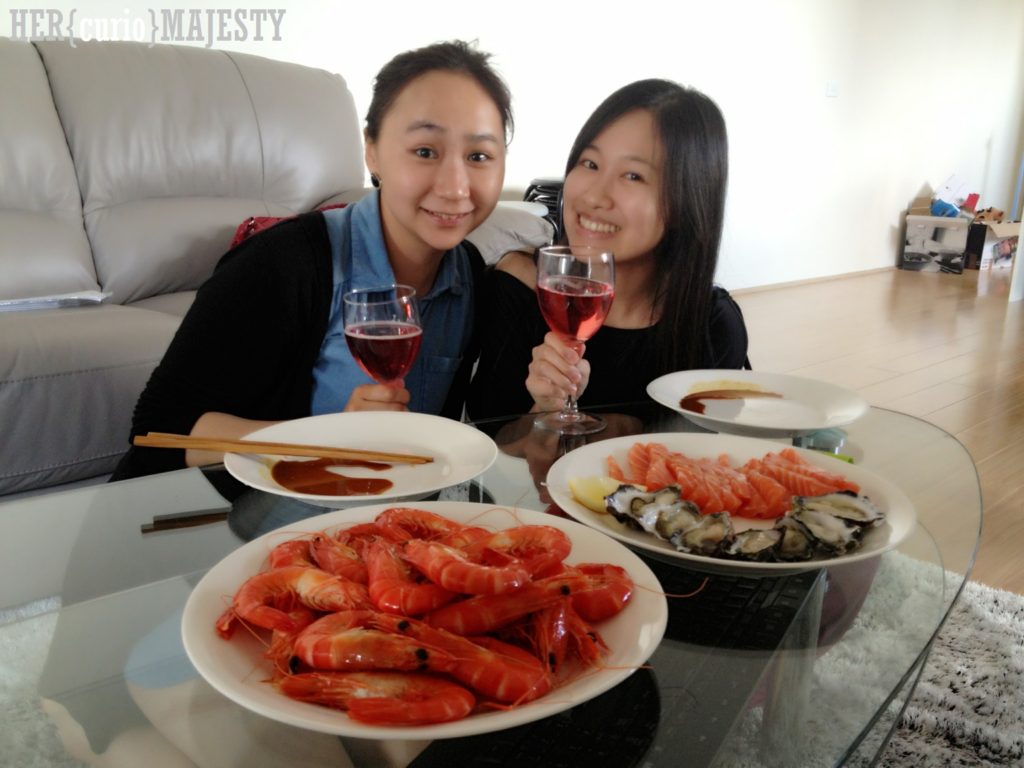 The perks of living in Sydney – buy fresh and have it at home comfortably with besties:)
Click [here] to see my review on Fisherman's Wharf, the yum cha restaurant inside the Sydney Fish Market.