As a proud Taiwanese, I am too familiar with the Hot-Star Large Fried Chicken. I had been waiting for it to come to Sydney ever since it first opened shop in Melbourne in 2013. When it finally came in early 2014, the usual greetings in our Taiwanese circle was immediately replaced by "Did you see/Have you tried/Did you like Hot-Star?"
—–HER{curio}MAJESTY SCORE SHEET—–
Visited: Multiple times.
Food: 9/10 || Ambiance: N/A (takeaway shop) || Service: 9/10
What I loved: The large fried chicken!
Will I come back: Yes.
Luckily for Mike and I, Hot-Star's Sydney shop is right in the centre of our usual habitat, so we could easily get a treat whenever we feel like it. Like the original Hot-Star in the Shi-Lin night markets in Taiwan, it's for takeaway only. Also, just like the Shi-Lin night markets, they would give you a plastic bag when you order, and when your number is called, you would then bring that plastic bag and naturally assist the guy in putting the deep-fried goodies into your bag. I've always found this quite a clever and efficient way of fulfilling the orders.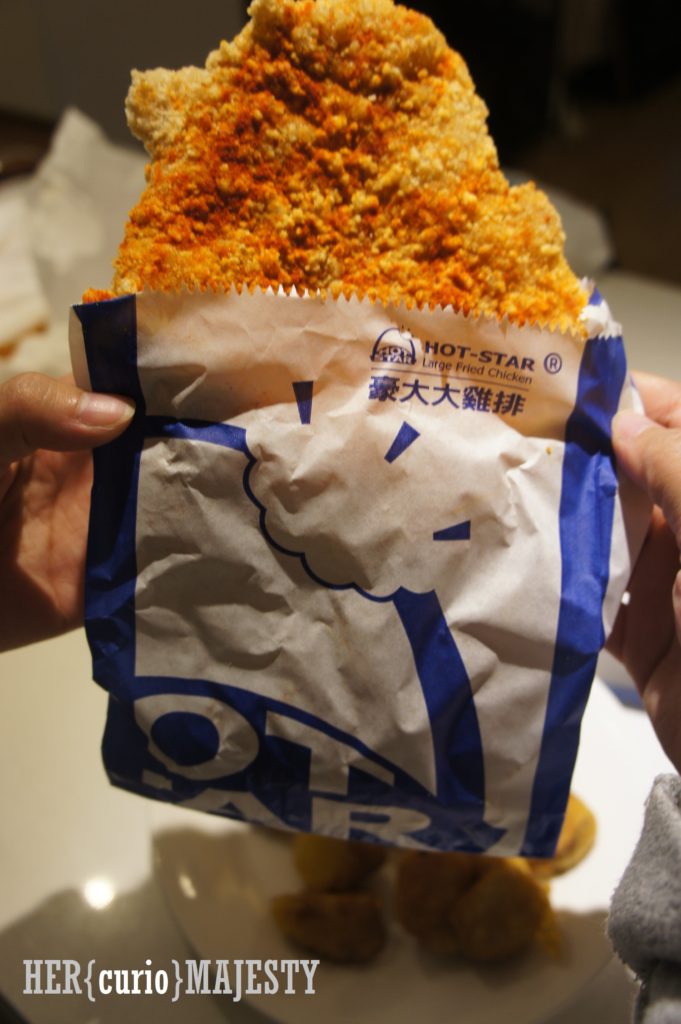 Ta-da! The original fried chicken (with chilly powder), $7.9 each.
Ask every Taiwanese living abroad, this definitely makes the top 3 "what food do you miss the most in Taiwan" list. The Taiwanese locals call this "Hao Da Da", being the first three Chinese characters printed on the paper bag. "Hao Da" (the first two characters) is the shop's Chinese name; and the second appearing "Da" means "large".  The brand originated from the Shi-Lin night markets, and due to its popularity and consistently high quality, it has been franchised all over Taiwan. And now it's in Sydney! Woot!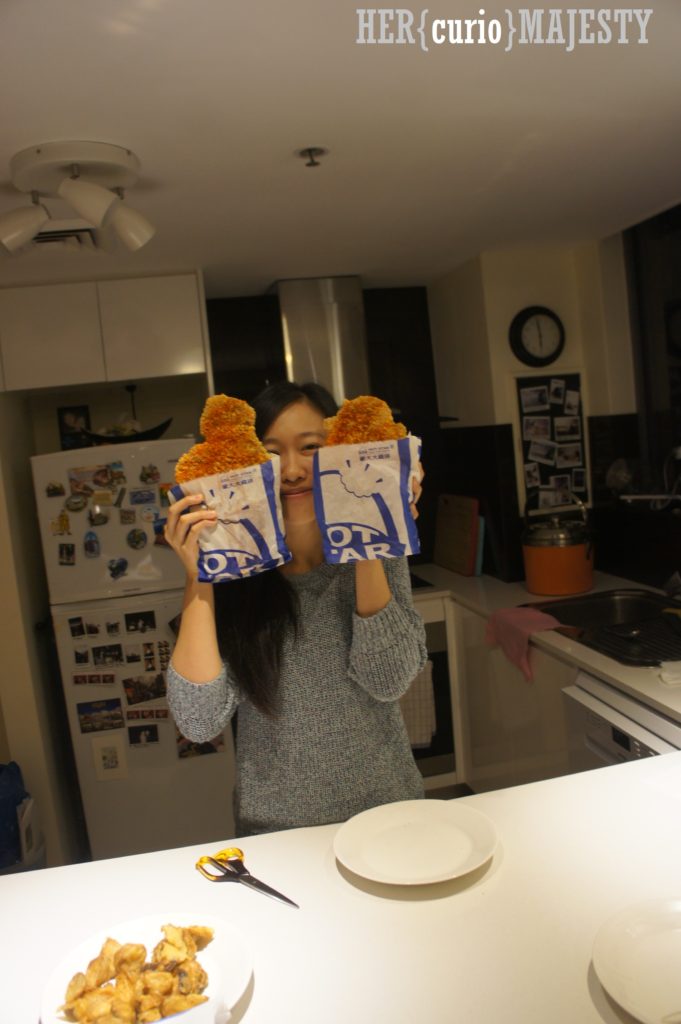 When a place uses the word "large" in its name, you'd expect the portion to be big. No jokes, the original fried chickens are HUGE.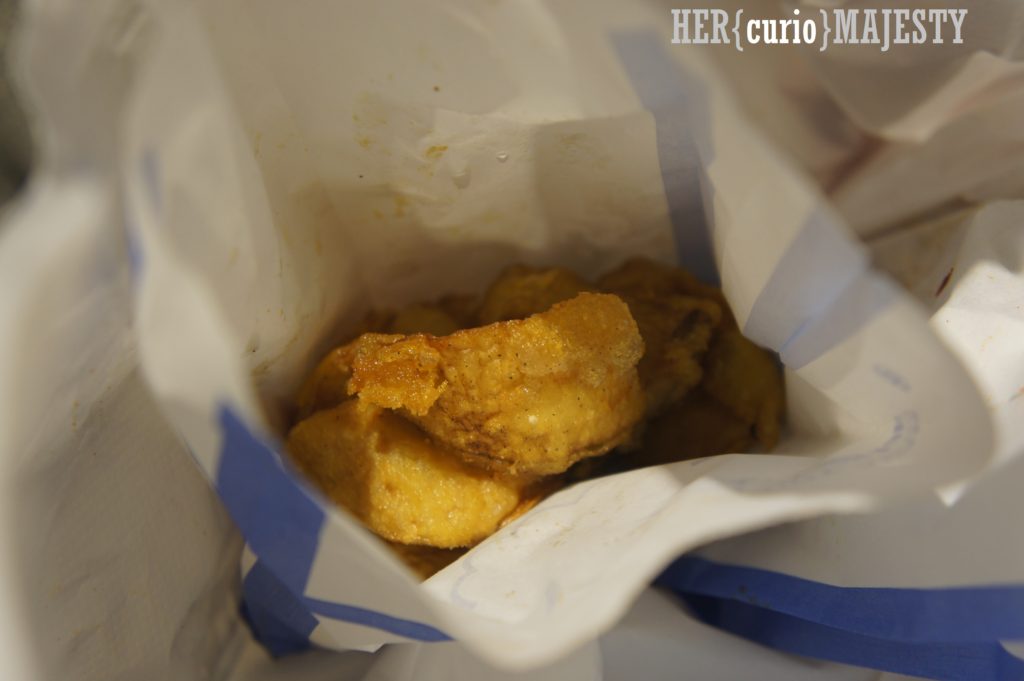 We also like their deep fried assorted mushrooms, $4.9. The portion is normal.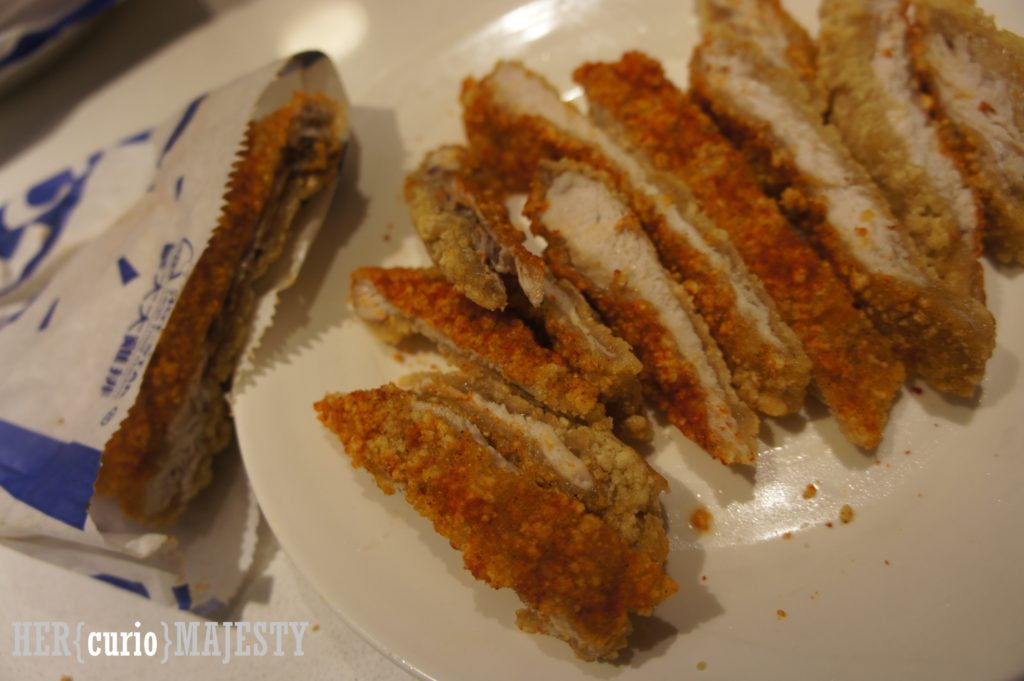 A perk of living near Hot-Star is that I get to enjoy it at the comfort of my home before it gets cold. The size of it could easily feed two people, so I like to take it home, cut it, and plate it — However, don't think about asking Hot-Star to cut it for you at the shop, they won't do it, and I 100% respect that as it's traditionally being enjoyed as a on-the-go hawker food anyway!
The batter and the seasoning is very different than the other fried chicken that we can get in Australia. If you haven't tried it yet, you're missing out – hurry up and go! If you have previously tried it in Taiwan – good news, it is 90% as good! The tastes and the size are all there, and surprisingly, the chicken here is noticeably thicker with more meat.
Of course, the price here is almost 3 times more after converting the exchange rates. But we're in Australia, really, what did you expect? I don't believe it's fair to simply compare the price without putting everything in perspective – shop rent, minimum wage, ingredient costs, etc. Anyhow, I hope they make money because I'm just happy that there's a piece of authentic Taiwaness being brought to Sydney. Thanks, Hao Da Da.
{Hot-Star Large Fried Chicken}
Address: 96 Liverpool Street, Sydney NSW 2000
Hours: 7 days, 11am-11pm
Website: http://hotstarchicken.com.au/

You might also be interested in